Week in Review
08/25/02 - 09/02/02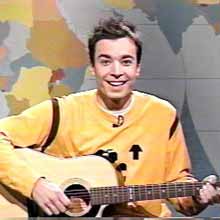 This week's question: Would you rather eat a pizzel smoothie or have crap smeared on your face?
Answer: Yuck. I would hope that I would be picked for "Real World" rather than "Road Rules."


This week's guilty pleasure: Replaying Michael Jackson's acceptance speech for the "Artist of the Millenium" award.


This week's pet peeve: The heat. Yes I realize just last week I was complaining about how it was overcast and not "summer weather" at all... but this 90+ heat is ridiculous. Especially if your air conditioner hasn't been used in ten years...


This week's revelation: Nothing good starts off with "a walk", i.e. "A Walk to Remember" and "A Walk in the Clouds"


This week's eye candy alert: Jimmy Fallon. He's cute and totally hilarious. He proved that MTV's VMA's don't need to be hosted by a black comedian to be funny.


This week's song: "Jessie's Song." Not an actual song, but the name of the "Saved by the Bell" episode where Jessie resorts to taking caffeine pills in order to study for her test and sing for her one-episode only music group Hot Sundae (see, so this episode DOES have music - sort of). This episode was recently reinvented for "The Rerun Show," although I think the original is every bit as funny as the intentionally comedic remake... I mean, what's NOT to laugh about acid-washed jeans? *shudder*