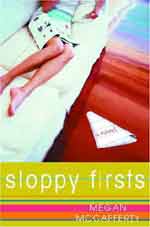 Book Title: Sloppy Firsts
Author: Megan McCafferty
Release Date: August 2001
Synopsis: 16 year-old Jessica Darling must deal with the teenage turmoil of high school without the help of her best friend, Hope. Jess deals with the problems of her hard-to-relate family, "clueless crew" friends, nosy school officials, and confusing boys by documenting her life in her journal.
Favorite Quotes: ...too many to mention... but that won't stop us from trying!
"No, mine is a Z-level celebrity, comparable to an actress who makes her mark in Lifetime made-for-TV movies with titles like Daddy, May I Dance with Danger?"
"Then it hit me: I'm Paul Parlipiano's Pepe Le Pew."
"My mom sighed and said, 'Jessie, I asked you how your day was.' That's when I realized I had gotten too attached to the TV."
"None of us wanted to be just another donut. They--we--all wanted to be the one who changed his life. The one who made him forget all the other girls who came before."
Why We Love It: Because we can relate to Jess' life of "Real World" reruns, cheesy made-for-TV movies, and jokes about camel-toed girls.