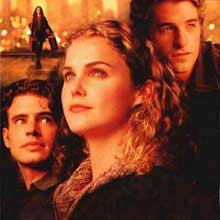 Show Name: Felicity
Running Date: 1998-2002
Cast: Keri Russell, Scott Speedman, Scott Foley, Amanda Foreman, Ian Gomez, Greg Grunberg, Donald Faison (okay so he wasn't a title character but damn he's hot!)
Synopsis: Felicity Porter decides to follow her high school crush Ben Convington to New York University based on what he writes in her yearbook. The show ran for four years, the duration of Felicity's college life. We watched Felicity in the bitter struggle between the age old question, Ben or Noel? The show became more as we watched Felicity cut her hair, grow it back, and be loved by Ben. Frustrating? Sometimes. Heartbreaking? Always.

Favorite Episode(this list could go on forever): "Pilot" - The start of it all with the words "I've watched you for four years. Always wondered what you were like... what was going in on your mind all the time that you were so quiet, just thinking, drawing in your notebook. I should've just asked you, but I never asked you...P.S. I would've said 'keep in touch,' but unfortunately we never were in touch."
"The Graduate" - Ben proposes to Felicity, there's a tender love scene between the two, and Ben follows Felicity across the country. Oh and they graduate from college, although why was Ben graduating when he should have still had one year left?
"Back to the Future" - The last episode, and despite the cheesy title, a very good episode that elicited tears as we watched Felicity remember the past four years, proving the exception to the "flashbacks suck" rule.
Favorite Quotes: "You were right, it was my turn to follow you"
Why We Love It: Because Ben's smoldering eyes, because the way Felicity says the name "Ben," because the way Scott Speedman would stroke Keri Russell's arm, because of the slow way they talked, as though each word was too torturous to say, because Felicity's painfully honest confessions in her letters to Sally, because we never wept so much and because it gave us something to look forward to each week.